Welcome to our new website, which we created for you. We've reorganized and refreshed it so that it will be easier for you to find the information you want and to give you a clear picture of what we offer. We've also added this blog, through which we look forward to sharing our knowledge and experience with you – helping you with ideas to make your business more effective.
For 22 years, we've been serving the northern Virginia and metropolitan D.C. area, delivering service and equipment for your printing, copying, and document solutions needs. Many of you have referred us and complimented us on our excellent service. Thank you. We pledge to continue to provide excellent service to you.
But we do more.
What we sell is printers and copiers (multi-function peripherals, MFPs, for those of us in this business) and software. You can find all the information you want in the links at the top of this page. But that's not what we do.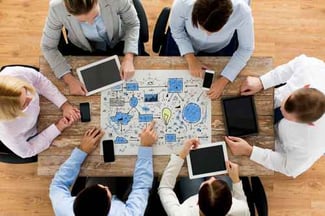 Here's what we do: we allow you to focus on YOUR business by taking away any worry about your documents. You don't care about what printer you use or which copier you buy, not really. That's our expertise and business. You're in the business of making sick people well. Or building a school. Or making sure the kitchen sink leak is fixed.
The last thing you want to worry about it is whether your printer is going to run out of ink, or the rollers on your copier are too worn and are causing paper jams. You want to print the invoice for the customer. Or copy their insurance card.
Let us do our job so you can focus on yours.
Over the next few months, and years, we'll extend our pledge of excellent service via this blog. I know that sounds a little grandiose, but we'll share tips and technology trends that you'll be able to use to help your business succeed.
This is a new journey for us as well, and we're nervous and excited. As we share our experience and knowledge with all of you. In turn, we hope you share your knowledge with us so that we can learn together.
What won't change is our commitment to doing more. We will continue to take that extra step to ensure that our service is not just good, but great.
We're also excited to offer you our first ever ebook. This guide will explain a better way to manage basic printing needs (with an emphasis for those of you operating in the healthcare arena). Take a look and see, we think it'll open your eyes to an area of business efficiency that you may have assumed was "just the way it is."
Thank you for reading. Thank you for being a customer.
Thank you again,
The MP Copiers Team